Dear Friends of Spaulding Youth Center,
Over a year ago, Spaulding Youth Center began to collect feedback about our name and logo. We sent surveys out to over 1000 people such as staff, parents, donors, stakeholders, DCYF, school districts and more. We felt as though our name wasn't really telling the story of who we are and what we do. We found out a few important things:
People identify us as Spaulding: There are lots of organizations or places with Spaulding in their name, especially in NH, but people strongly associated us with Spaulding.
Why Youth Center: No one could really determine why the "Youth" and "Center" were part of our name and felt they didn't align with what we did, both on campus and in the community.
Love the Tree: People loved the tree in our logo and felt it exemplified our beautiful campus and sense of hope.
The Board and executive leadership team processed all the data, and today we are excited to announce our new name and logo effective 9/1/2020: Spaulding Academy & Family Services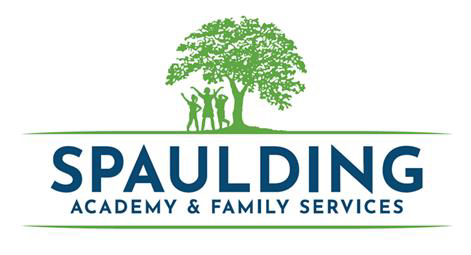 Spaulding Academy focuses on the fact that we are a school with both residential and day students. Spaulding Family Services focuses on the work we do via our Community Based Programs as well as the work we do with children and families who we serve residentially and otherwise. Combined, Spaulding Academy & Family Services keeps Spaulding, but clarifies what we do and who we support. The logo has been updated with more modern colors, the people are slightly changed and in more joyful positions, but we maintained our original tree.
We are doing a slow rollout of our new name and logo over the next month or so. Our communication plan includes updating all those we work with as well addressing signage, stationary, email addresses, website and a lot more.
This change is especially important since we are also celebrating our 150th anniversary this coming year too!
We hope you feel positive about our approach to this and that you like the new name and logo. We have lots of positive things to celebrate, so thank you for helping us do that together!
Warmly,
Michael F. Ventura, Chair of the Board
Susan C. Ryan, President and CEO