Kate, Samantha and Jennifer – A Spaulding Sisterly Bond
May 29, 2019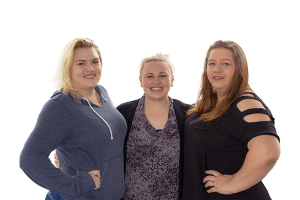 It has been said that Spaulding staff members are like a big family. They are supportive of one another, practice teamwork on a daily basis and are always willing to lend a helping hand. So, it is really something special when actual family members work side-by-side at our organization.
Kate Schwarz, Samantha (Sam) Doucette and Jennifer Lutz are sisters – three of nine children to be exact! The sisters recognize the extraordinary efforts of their parents, not only to help them and their siblings to succeed professionally but also to foster their compassionate and positive attitudes. Spend any time with these sisters and you will quickly see that this trio brings all this and so much more to the Spaulding Youth Center campus!
Kate and Sam are both Licensed Nursing Assistants (LNAs) and had experience working in nursing homes and hospitals prior to beginning their journey at Spaulding Youth Center in March 2016. But the coincidence doesn't stop there – they both interviewed on the same day for residential counselor positions in the organization's Lambert residence hall. Call it sisterly luck, but they were both offered a position. Kate and Sam loved working at Spaulding so much that they begged their younger sister, Jennifer, to apply to the organization. In October of 2017, Jennifer joined her sisters at Spaulding as a residential counselor and the three sisters quickly learned their family bond would become even stronger.
All three sisters are in agreement that the "little big things" that occur on campus are what inspires them every day. They are grateful that an organization like Spaulding Youth Center exists to give kids with special needs a place to live, friends and staff members to call family, and a real opportunity to succeed.
As the oldest sister, Kate admits that like with every job, there are good days and bad days at Spaulding. Luckily, the good days are really good. One of her favorite memories is when she taught a thirteen-year-old student to tie his shoes. He never knew how, and now he has the skill down pat to use for the rest of his life.
Jennifer's favorite activity is taking students on trips to the beach. She loves to observe them play in the sand, make new friends and explore the environment around them. Some have never seen the ocean before, and a visit to the beach is a childhood memory that every kid deserves.
For Sam, celebrations held when Spaulding students move on from the organization are her favorite part of the job. Though bittersweet, she loves how these celebrations provide an opportunity to reflect on how far a student has come and wish them continued success beyond Spaulding Youth Center. Sam's nine-year-old son has autism spectrum disorder, so the work Spaulding does and the children they help are especially close to her heart. Kate, Sam and Jennifer agree that one of the most positive changes on campus has been the arrival of Susan Ryan in early 2017. The Spaulding President & CEO has made it her mission to keep staff informed, appreciated and introduce new and improved changes to the organization's school and residential halls. The three agree that Susan is an incredible female professional role model and are excited about their future at Spaulding.