Dreams Can Come True An Adoption Adventure
June 08, 2020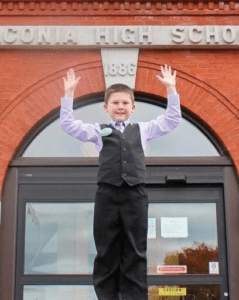 Edward always dreamed of having a family. He had been in and out of foster care in his short eight years, and never really had a sense of permanency. The traumatic experiences he endured as a young child took a toll on his schoolwork, behavior and ability to fit in. At eight years old, all Edward wanted was to belong – to somewhere and to somebody.
Happily married, Britni and Jason dreamed of having a family. After years of infertility struggles, they decided to consider other options. The couple enrolled in Foster and Adoptive Care Essentials (FACES) training, a series of workshops through Granite State College Education & Training Partnership. It was through these workshops that they could truly help a child – and their family – heal. Following this training, Britni and Jason decided to move forward with becoming foster parents.
One day, the couple received a phone call from their case worker who found the perfect child for them: a sweet, charming and precocious eight-year-old boy who already lived in their town. The boy was Edward, and he was also looking for his forever family. It was fate.
Britni and Jason met Edward and felt an instant connection. They quickly became his foster parents and it appeared as though the stars had aligned. Unfortunately, things began to go downhill. Though they had read parenting books and taken classes, the couple was not equipped to handle Edward's struggles and challenging behavior. Edward had frequent and loud outbursts and would even threaten to harm himself. Britni spent hours crying in the bathroom every day. She felt like a failure and did not know where to turn. Her visit to a local support group taught her that there were state services available to help. Finally, there was a light at the end of the tunnel, and that light was Spaulding.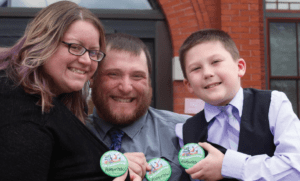 The couple was introduced to a Spaulding Family Case Worker, who immediately gave them a new perspective that would eventually change their lives. Spaulding staff members scheduled regular home visits and helped Britni and Jason implement Trust-Based Relational Intervention® (TBRI®) as part of their parenting approach. This method of caregiving is a holistic, evidence-based, traumainformed intervention that is specifically designed for children who come from hard places, such as maltreatment, abuse, neglect, multiple home placements, violence and other traumas. Over the next year and a half, Spaulding staff became family. They connected Britni with the resources she needed, including the tools to become an advocate for Edward's health. They orchestrated a meeting with Edward's school to figure out how to make his educational experience a success after years filled with academic and behavioral struggles. Most importantly, the Family Case Worker helped them to realign their expectations and discover the true meaning of family bonding.
To this day, the Spaulding Family Case Worker continues to provide the couple with resources dedicated to helping Edward move forward and reach his full potential. Home visits became less frequent due to Edward's emotional growth until they were unneeded completely. However, all three family members share the comfort that Spaulding will always be there for them.
With Spaulding's support, Britni and Jason officially adopted Edward on October 16, 2019. This happy, healthy and well-adjusted boy even wrote a story about his adoption day called "My Adoption Adventure" where he reflected on his experience. The trio is on a mission to create as many wonderful memories together as possible. Britni, Jason and Edward continue to strengthen their family bond, using the tools Spaulding has given them as well as the love they have for each other. It is true what they say: Dreams can come true.